OH THE PLACES YOU'LL GO!
Behind The Rocks 50K Race Report
By
Jessica BeechamJessica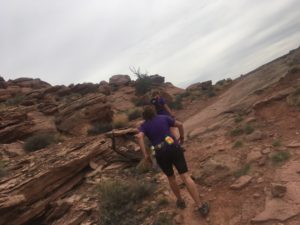 *** Picture of Jess running in the slick rock
After the Pikes Peak Marathon last year, it was time to choose my next epic adventure. Although I wholeheartedly believe that we are boundless in our potential, it is easy to fall into the trap of placing arbitrary limits on our own physical and mental capacity. I like to choose challenges that help me transcend those self-imposed barriers.  When researching cool races, I landed on the Pikes Peak Ultra 50 mile race. Since this race will be held in late July, it seemed wise to choose some exciting training races to help me prepare. Since half of Colorado Springs seemed to be planning to head to Moab for Behind the Rocks 50K, I signed up. Bailey Eppard graciously agreed to serve as my guide. As we got closer to race day Karen Kantor agreed to guide as well.
I have to take a moment here to express my sincere gratitude to these two extraordinarily talented and dedicated ladies! Bailey was coming off of an injury and had been very limited in her running prior to this race. Karen ran the race on a broken foot! For those who do not know Karen, she also has a spinal cord injury that makes running technical terrain tricky for her as well. These ladies can run way faster, farther, and stronger than I can any day of the week so it was such an honor that they dedicated their time and energy to helping me complete my first 50K. I could not have asked for a better team!
Although Behind the Rocks was not my goal race, it was certainly a huge milestone since I would be transitioning from marathon distance courses to the world of ultra-marathons. Reaching milestones always brings me back to one of my very favorite books "Oh the Places You'll Go" by Dr. Seuss. This children's book does a tremendous job of describing the highs and lows that come along with life's most exciting journeys.
"Congratulations! Today is your day. You're off to great places. You're off and away!"
Our first mini adventure arose when we found out a big snow storm was coming the day we were supposed to head to Moab. Bailey and I decided that we did not want to take the chance of missing the race so we headed out a night early. Bailey's dad sweetly secured sleeping quarters so that we could make it through the part of the journey that would be most troublesome in bad weather.  We arrived in Moab safely and luckily all of our friends from Colorado Springs were able to make it as well. After a delicious dinner with, we settled in for a good night's sleep.
Bailey and I headed out early to meet the AWESOME Denise Flory who agreed to babysit my guide dog, Prada, during the race. Unfortunately, we got a little turned around on the Jeep road and could not find the start before Denise had to leave. This meant that Prada got to join us for the first 6 miles of the race. She loves to run so it was a win-win all around! We saw lots of friends from Colorado Springs at the start of the race and took a picture with a big Colorado Springs Achilles Pikes peak crew!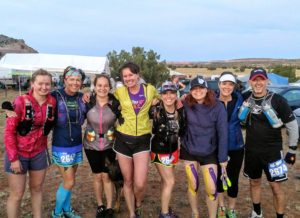 ***Picture of our Pikes Peak Achilles Crew before the start.
The First 6 Miles!
"You'll be on your way up. You'll be seeing great sights. You'll join the high fliers who soar to high heights. You won't lag behind because you'll have all the speed. You'll pass the whole gang and soon take the lead."
The first six miles were pretty awesome. I stumbled and bumbled a bit in the beginning because of the slick rock but it was an easy stretch of the course. Although I knew it would be a tough run, I was feeling optimistic about the rest of the race. Karen ran with Prada (poor Karen didn't know how exuberant Prada can be at the start of a run). It was smiles all around when we met Denise at aid station 1!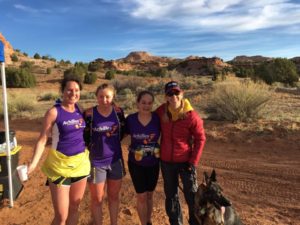 ***Picture of Karen, Bailey, Jess, Denise, and Prada at aid station 1
 Miles 6 – 16
"I'me sorry to say so but, sadly, it's true that bump-ups and hump-ups can happen to you"
My happy cruise of the first six miles slowly came to a halt after passing aid station one. Based on the elevation chart and the course thus far I thought this would be a section of rolling hills with significant elevation loss. It was, but often the sections with the most loss included rocks and other obstructions that greatly slowed my progress. This is the first time I ever experienced such emotional turbulence in a race. I was on such a high from the fun first section, came crashing down when I realized that the second section was not at all what I expected, then went soaring again as I enjoyed the people, sights, and sounds. I am usually a very even keeled person so these euphoric highs and deep dark lows were something very new to me.
"Somehow you'll escape all the waiting and staying. You'll find the bright places where boom bands are playing."
At the end of this section we had to run around the canyon ridge and do some climbing in to get to the second aid station. It was a little tricky and a lot of fun to listen to  some of the sighted runners who were getting nervous about the huge drop off into the canyon. Sometimes not seeing well has its perks! Even though this was one of the more technical sections it was one of my favorites. We met up with Lynne and Mary from Colorado Springs who kept us company during part of this section.  We also ran into several of the super-fast 50 mile runners. There was great, positive, uplifting energy at the aid station and ohhhh the dill pickles!
Video clips show me bouldering out of the canyon. In one of the clips you the dramatic drop down (100 ft or more into the canyon) is.
Miles 16-24
"I'm afraid sometimes you'll play lonely games too. Games you can't win cause you'll play against you."
This section was everything I expected it to be. It was a long steady uphill grind. It gave me lots of time to think. The funny thing about having time to think after a section where you have let yourself have some down moments is that you can think about down things. I had this overwhelming thought that because this race was not going as I had expected (even though I really had no expectation going in) that there would be no way that I could do the Pikes Peak Ultra. I knew this was a ridiculous thought and I tried to keep it out of my head, but it kept coming back so we had to resort to Show Tunes. We sang every song that we could think of from the "Lion King" to "Grease." We left no stone unturned. Although we could not remember most of the words, it helped while away the miles and was a definite spirit lifter. Aid station 3 was exciting because we had one more eight mile stretch to the finish!
Mile 24-Finish
This is the section where I officially became an ultra-marathon runner. WOOHOO!!!!! I The terrain was a bit flatter, but by this time my feet were sore and I just wanted to be finished with the race. Unfortunately, our distances did not agree with the race distances and at one point I found out I had farther to go than I thought. While normally this would not have been a big deal, it broke my emotionally unstable little heart. I was like a little kid on a road trip "are we there yet… are we there yet…" I am sure Bailey and Karen wanted to punch me in the throat but they were incredibly sweet and just kept telling me we would be there soon. I wanted to know EXACTLY how much more we had. At that point I did not want to go another inch farther than the distance I had signed on to do. This is such a stupid thing but it is just what was in my mind at that moment!
All of this sounds a little grim, but the truth is that for every down moment there was a song, a laugh, or just a burst of happy energy that came through making the whole experience worth it! One of my favorite moments was when we had an unexpected aid station about 4 miles out and I got to see Prada! She was so excited to see me. It made my day and I left that aid station feeling GREAT!
Not long after we got close enough to see the finish, we were met by Denise, Prada, and Tim who ran in with us. Prada decided to christen the Behind the Rocks course with a big dump just about 20 feet from the finish. Naturally, I just let go of her leash and ran away like I didn't know her so that I could finish the race. Poor Karen waited with her as people snickered from the sidelines. After the poop was removed and the whole team had crossed the finish it was finally time to celebrate a well finished tough race.
What I Learned
The race was awesome. We had great weather and I had the very best support team a girl could ever dream of. The only negative parts were the ones that I let grow inside my head.  A critical piece moving forward will be learning how to keep those thoughts from raining on my beautiful day! Next time MENTAL GAME ON!
The easy parts of a race are not where the barriers are broken down. It is the grind, the climb, and the pain that will help me grow as an athlete and as a person. EMBRACE IT!
I love running. You might say no S*** you just did an ultra-marathon. Well it took me a long time to come to this conclusion. I hated running for a long time. Once I found guides and started running outside I realized that the only thing I hated about running was the treadmill. This race affirmed my love for running like nothing else has because it was not all flowers. I definitely felt my share of the thorns, but as soon as I was done I was ready to get home and train for the Pikes Peak Ultra.
I am really excited to announce that we are going to use the Pikes Peak Ultra as a fundraiser for WE Fit Wellness. WE Fit Wellness is the company that I direct. We work really hard to help people with disabilities find accessible, affordable, and achievable health and wellness solutions. This fundraiser is a way for me to use my health and wellness journey to positively impact the health and wellness of others. You can follow my training adventures for the Pikes Peak Ultra through our WE Fit Wellness blog and by liking WE Fit Wellness on FaceBook!
"You're off the Great Places! Today is your day! Your mountain is waiting. So…get on your way!"
Please click HERE to support me in my Pikes Peak Ultra adventure WE Fit 50 Fundraiser to raise funds for WE Fit Wellness!
Thank you to our ULTRA LEVEL SPONSORS
National Federation of the Blind of Colorado
and our TEAM JESS SPONSORS