Yoga Without Barriers: My lack of sight, the gracious blessing.
By:
Amber K. Sherrard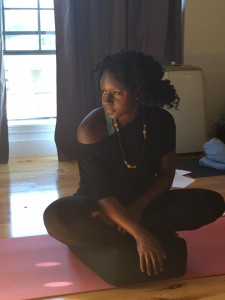 Hi everyone, my name is Amber K. Sherrard. I am a young blind woman who is passionate about equal access to health and wellness for everyone. I would like to share with you my love and zeal for yoga from the perspective of both a blind yoga teacher and practitioner. It would be my absolute pleasure to provide you with helpful tools and tips needed for you to begin and sustain your very own yoga practice.
Like many of you, I have been blessed with an eye condition that allows me to have less sight than most people. My lack of sight however does not mean a lack of vision. It is my dream in this lifetime to share with others the joy of practicing yoga without barriers of the body, mind, or spirit. As I began to lose more of my eyesight as a young adult, yoga provided me a place of freedom where no barriers existed. My teacher, Peyton Fisher, helped me to begin my yoga practice by teaching me to lead from the heart, without fear of judgment or wrongness. He first taught me the yogic breath or pranayama. This kept me oriented on my mat and connected in every posture, including the posture of life. Through this experience, the gift of freedom was bestowed upon me. I was free to explore the depths of my yoga practice any and everywhere. Whether I was at home in my sacred space, or in a dark, crowded Ashtanga studio where no English words were being spoken, my practice was all mine and I was free to explore without the barrier of little eyesight.
With these tools, breath and freedom, the chains of the prison in my mind had been broken. I was no longer a slave to the disability I hated for so many years, but a queen of the blessing that was so graciously given to me. Every single day since then, I have been dedicated to a daily yoga practice, and through it I am constantly being provided the freedom to give, receive, learn, love, grow, and explore both on and off of the mat. "So whether you do your first Downward Facing Dog at 14 or 44, it is not your history that matters but your presence on the mat that counts." So, come along with me as I gift to you what has been so given to me, freedom.
In the months to come, I would like to share with you articles and video tutorials of yoga philosophy, guided meditation, yoga postures, and even short sequences relative to different benefits of the physical and subtle body. It is my hope that you find the same joy that I have found through yoga and may the chains of your mind, body, and spirit be broken so that you will forever walk in freedom.
Please email or comment below with questions or topics that you would like to see covered in the coming months.
Until next time, love, peace, and namaste to all.
Amber K. Sherrard
amber@yogablissbatonrouge.com