By Kevan Worley
The title of this blog post comes from the first line of an email I received over the holidays… 
Okay, in full disclosure, WE Fit Wellness does not have any official relationship with the Y. We are members of our local Y. Over the years we have used a number of fitness facilities from the big brand names to local clubs, hotel or apartment complex fitness centers. I have found the local Y to be a good fit for me. Last year when I toured a 24 hour fitness center my guide explained, "the men's room is over there," with a wave.
I am totally blind and this, so called facility acclimation was not only unhelpful, it was unwelcoming and dismissive. I then toured the down town Y here in Colorado Springs. I was welcomed, I received detailed and useful information. The downtown Y is a $7 Uber from my home and the Y has the facilities I require. The lifeguards at the pool are kind enough to help me locate an open lane. Front counter personnel are helpful.
However, I have found it a bit annoying that with all of the lockers in the locker room, the down town Y has been reluctant to assign a specific locker to me. This isn't a huge hurtle but when I want to use the facility during hours, when counter personnel I do not know are dispensing keys, it often takes me several extra minutes simply to find the right locker. These are the little deterrents that say to people with disabilities, "we are happy to have your patronage, but we can only do so much." By the way, the locker room they have has dozens and dozens of lockers. I have never been there when there was more than seven or eight people using the room at one time. It seems inflexible not to offer some welcoming accommodation when that extra effort places no undue burden on the facility. That said, as I say in general, I am proud to be a member of our down town Y and I plan to support their expansion as they implement a capital campaign.  It's a good fit for me.
Like all workout facilities I have encountered, much of their equipment is not easily accessible to people who are blind. This is largely due to the fact that manufacturers simply do not take people with disabilities into account when they build equipment such as ellipticals, treadmills and the like. I don't know of any treadmill that is, "fully accessible." The best ones give one the access to start, speed, incline and stop. That is usually after you feel around, punch around the touch screen and or hunt down some kind soul to help you, "get 'er going." But I certainly can't use all of the timing or tracking features.
It seems to me that if organizations such as the Y, hotel chains with fitness centers, and the fitness club chains would work with us as the paying consumers that we are they could insist that manufacturers build user friendly features for all consumers into their equipment on the front end.
I have found that the best approach for maximizing the Y experience is to take advantage of their initial free session with a personal trainer. This is good for all patrons. During the holidays I received an email explaining holiday hours. The email also detailed some great reasons to take advantage of the Y's personal training services. I think the reasons provided in the email are compelling I will print them below. But even when using a personal trainer to help familiarize myself with the facilities and equipment, glitches occur.
A while back I asked a personal trainer to show me a treadmill that would best work for me. The trainer assisted me by finding a treadmill. It was not at all accessible. He indicated that all of the treadmills were the same. I later found out from WE Fit Wellness executive director, Jessica Beecham, that all of the treadmills except for two (which included the one the trainer had just set for me) were at least somewhat accessible. In fact, the Precor treadmills allow one to easily start, increase and decrease speed, and incline and quite essentially, stop. The trainer did not know that the Precor treadmills allowed for significant functionality by blind users. The Y and other fitness facilities of all types have in general refused to offer staff training to employees.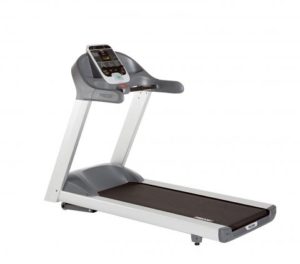 Picture of somewhat accessible Precor treadmill
The purpose of WE Fit wellness is to bring solutions which will make exercise and nutrition affordable, accessible and achievable for people with disabilities and other segments of our population which are often left out of this nation's ever growing wellness movement. As we enter year three of WE Fit Wellness, this will continue to be our clarion call. We will encourage, engage and advocate. We will do it with balance and inclusion. Health and wellness for all is too important, and no one should be left out. All must be welcomed. We say this to the facilities, the manufacturers and the training profession. I particularly say it to my buddies at the YMCA. I say it to them because my experience is that, they may listen.
I am very proud of the stance taken by the oldest and largest organization of blind people, the National Federation of the Blind (NFB). At the organization's 2016 convention, the organization  passed a strongly worded resolution regarding the Right of the Blind to Access Exercise Equipment in Fitness Facilities. Below find it's resolve as well as a link to the entire text of the resolution from the National Federation of the Blind website. And remember utilizing a personal trainer can make for tremendous results in the year to come.
BE IT RESOLVED by the National Federation of the Blind in Convention assembled this fourth day of July, 2016, in the City of Orlando, Florida, that this organization strongly encourage health clubs, hotels, universities, workplace fitness facilities, and other fitness facilities open to the public to provide full and meaningful access on a nonvisual basis to fitness and exercise equipment, thereby complying with the Americans with Disabilities Act's general prohibition on discrimination; and
BE IT FURTHER RESOLVED that we call upon fitness facilities to work directly with the National Federation of the Blind Jernigan Institute and the National Federation of the Blind Sports and Recreation Division to ensure that exercise and fitness equipment is accessible to the blind; and
BE IT FURTHER RESOLVED that this organization, in an effort to provide clarity to those who operate fitness facilities regarding what their obligations are under the ADA, urge Congress to give the United States Access Board the authority to write standards to make all fitness equipment fully accessible so that the blind can use such equipment on an equal basis with the sighted.
https://nfb.org/2016-resolutions
For the YMCA's personal trainers:
https://www.ppymca.org/search-results?indexCatalogue=fullsite&searchQuery=Meet%20Our%20Personal%20Trainers&wordsMode=AllWords
From the email I received from the Y informing members of holiday hours:
We have over 35 nationally certified personal trainers that will take the time to understand where you are, what you want to accomplish and who you want to be! Take advantage of this opportunity and the ability to work with the best personal trainers in Colorado Springs. Together, we are better!
Gives individualized instruction
Keeps you safe
Improves your overall fitness
Provides social support
Overall expertise provides maximizes your workouts

Keeps you motivated
Helps you stay consistent
Supervises workouts
Makes workouts more effective
Helps you reach/maintain a healthy body weight