by: Brooke Adamek
Listeners of Find Your Fit know Jessica and Kevan have talked about the properties and benefits of kombucha tea.
Many folks have taken to drinking this healthful elixir because it promises a strengthened immune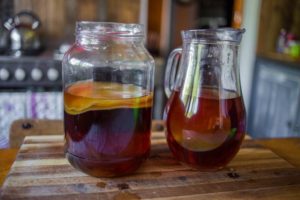 system, energy improvement and good digestion. Some even drink it because they like the carbonation and flavor.  Kombucha is even rumored to inhibit aging.
Kombucha contains lives bacteria–and mounting research according to NPR says that this live bacteria or "probiotics" are what helps with digestion.
Health minded consumers produce the tea in their kitchens or purchase it at the local grocery store just as they would regular tea.
Kombucha tea is made by fermenting a sugar-sweetened black tea. Kombucha culture, according to Livestrong.com is made of yeasts and bacteria which tends to look like a flat pancake and consumes the sugar.
The hitch with making this tea at home however is when brewing goes awry with the Kombucha cultures–that is to say, if the tea is not brewed in a sterile environment for the correct amount of time the tea can cause adverse effects.
According to the Mayo Clinic, if home-brewed Kombucha tea goes wrong it can cause stomach upset, infections and allergic reactions.
Since many batches of kombucha tea are brewed at home, the risks associated with this drink can be quite high. According to the American Cancer Society, there are many variables that can occur when fermenting and consuming the tea with potentially dangerous results. Strains of molds, bacteria and fungi can develop which may cause serious illness. WebMD has even stated on its website that 20 people in Iran developed anthrax infections after drinking kombucha tea. They go on to caution that the tea can be especially threatening to people with HIV or compromised immune systems.
Another bullet added to the Kombucha mystery is that no clear trajectory towards improved health has actually been founded–according to NPR, MAYO Clinic, Huffington Post, Livestrong.com, or Harvard Magazine.
There has been research that shows promise such as in one 2010 experiment published in the journal Food & Function, researchers fed kombucha to mice with stomach ulcers and found that black tea that was fermented for four days with a Kombucha culture was as effective in treating the ulcers as the control medication, omeprazole.
Still, those who swear by kombucha say it improves the way they feel from better sleep and energy, all the way to claims of clearer skin and thicker hair. While better health claims can't yet be proven, it is safe to say that if kombucha tea helps you, makes you feel good, and gets you to find your fit–drink up!