by: Kevan Worley
OK, so to add to my holiday reassure, I am told by director Beecham that I need to write a holiday blog. How's this, with great sincerity, I say, "happy holidays." Not very sincere? OK. How about this:
I've done pretty well with my eating and exercise over this past year. So I will celebrate with some of my favorite holiday foods. Mashed potatoes and gravy, yum! It ain't a holiday meal without the traditional holiday green bean casserole. Some of my buddies love egg nog. It's not my deal, but I found a cool tidbit about it on the web and I'd love to have me some pumpkin pie. I will cut back at least a little on my long standing holiday feasting. That doesn't mean it will be a holiday of fasting. The fact is, you can still eat well, feel good and celebrate.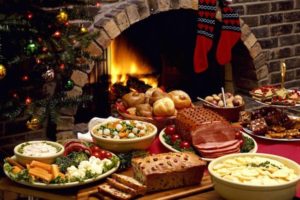 According to the National Institutes of Health, holiday eating can result in an extra pound or two every year. The holidays don't have to mean weight gain or guilt-ridden New Year's resolutions. Turn your focus on a healthy balance of food and fun. By implementing a few simple tips you can stay healthy through the holiday season.
Here are a few cooking tips for our healthful holiday hosts, our readers spending the holidays solo, or those who want to look into making traditional dishes in a new way.
Gravy — Refrigerate the gravy to harden fat. Skim the fat off. This will save a whopping 56 gm of fat per cup.
Green Bean Casserole — Cook fresh green beans with chucks of potatoes instead of cream soup. Top with almonds instead of fried onion rings.
Mashed Potato — Use skim milk, chicken broth, garlic or garlic powder, and Parmesan cheese instead of whole milk and butter.
Holiday Nog — Four bananas, 1-1/2 cups skim milk or soymilk, 1-1/2 cups plain nonfat yogurt, 1/4 teaspoon rum extract, and ground nutmeg. Blend all ingredients except nutmeg. Puree until smooth. Top with nutmeg.
Desserts — Make a crustless pumpkin pie. Substitute two egg whites for each whole egg in baked recipes. Replace heavy cream with evaporated skim milk in cheesecakes and cream pies. Top cakes with fresh fruit, fruit sauce, or a sprinkle of powdered sugar instead of fattening frosting.
Enjoy the holidays, plan a time for activity, incorporate healthy recipes into your holiday meals, and don't restrict yourself from enjoying your favorite holiday foods. In the long run, your mind and body will thank you.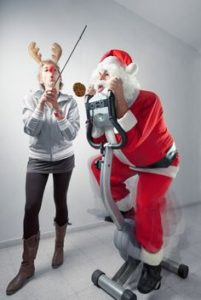 Be realistic and don't try to lose pounds during the holidays, instead try to maintain your current weight. Plan time for exercise and suggest a walk around the block with your relatives post feast. A moderate and daily increase in exercise can help partially offset increased holiday eating. Survey party buffets before filling your plate. Choose your favorite foods and skip your least favorite. Include vegetables and fruits to keep your plate balanced.
The holidays are a great time for reflection, family time and appreciation. They are also a time to appreciate the gift of health. With balance and moderation, you can enjoy the holidays the Find Your Fit way.