Podcast: Play in new window | Download (Duration: 35:25 — 64.9MB) | Embed
Subscribe: Android | Email | Google Podcasts | RSS
Kevan Worley welcomes Jessica Beecham, Amber Sherrard, and all of you to episode #27 of the Find Your Fit podcast. Jessica begins the program by running in place to get her steps in for the fitness challenge that she and WE Fit Wellness are helping to organize. WE Fit Wellness is partnering with United States Association of Blind Athletes (USABA) and the Anthem Foundation to organize and implement this program in Colorado. Anthem is partnering with other organizations in 13 other states and doing other activities. In Colorado, we are doing a race series. We will be providing Fitbit Flex 2s and encouraging people to increase their steps. Kevan, following the Find Your Fit Tradition, gives us an injury update. This week he discusses how he got his latest injury, a concussion. Jess reminds us of SuperBetter by Jane McGonical, which is both a book and games to reduce symptoms of a concussion. Kevan also wrote a blog about it and you can find it at this link.
Jessica Welcomes Michal Kapral to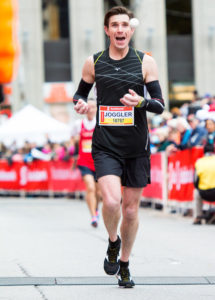 Find Your Fit. Michal is a joggler. The sport of joggling combines juggling and running/jogging. He holds world records in running both marathon and half marathons while juggling. You might have seen him in this commercial for Fairfield Inn & Suites. You can also learn more about Michal on his website by clicking this link or searching bloggling joggler. He has completed 8 marathons while joggling, and he finally accomplished one of his goals of a no drop marathon in Chicago. For each of the marathons Michal runs, he seeks out a charity to raise money for.
Jessica, Kevan and Amber talk about a detox tea (also known as "paint thinner") that Amber has brought to the WE Fit Wellness office. The tea is made primarily from coriander seeds and fennel seeds boiled. You can also add any kind of fruit, cinnamon, or tea to add more flavor or sweetness.
Kevan thanks our sponsors: Push Beverages, the Colorado Center for the Blind (CCB), and the National Federation of the Blind (NFB).
Kevan also promotes one of our latest blogs about essential oils.
For Fit Chat, Jessica, Kevan, & Amber talk about fitness trends for 2017. The number one trend is wearable technologies. We are currently using Fitbit Flex 2's around the WE Fit Wellness office. Number 2 is body weight training. Jess tells us about a plank challenge that she is currently participating in. There is a Facebook page for the group. Jess also tells us that planks are one of the exercises described on the Total Fit Pack available on our WE Fit Wellness website. Number 3 is utilizing fitness professionals like trainers, life coaches, etc. Number 4 is strength training. Number 5 is group training classes like yoga, pilates, Zumba, etc. Number 6 exercise as medicine, so not just exercise to look good, but to prevent chronic diseases. Number 7 is Yoga. Jess says she has recently heard of different trends like goat yoga where people do yoga in the goat pin, metal yoga where people do yoga to heavy metal music. Number 8 is to become a fitness pro/trainer. And number 9 is using fitness for weight loss.