Podcast: Play in new window | Download (Duration: 32:04 — 58.7MB) | Embed
Subscribe: Google Podcasts | Email | RSS
Kevan and Jessica discuss a technique to eat chocolate (or anything else) without going overboard.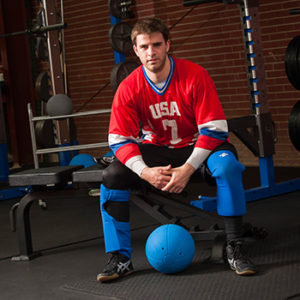 Jessica and Kevan have a chat with Rio Paralympic silver medalist, Matt Simpson from the USA Men's Goalball team. Matt tells us what it was like in Rio and the whole Olympic experience. He walks us through their send off from Houston, arriving in Rio, competing in the Paralympics, and the amazing people of Brazil.
Matt lets us know that housing is completed at Turnstone in Fort Wayne, Indiana for USABA USA Goalball, so if you are interested in competing at the highest level in goalball, contact USABA to apply.
Jessica reveals that both she and Kevan will be getting guide dogs later this week. For Fit Chat, Jessica talks about some of the health benefits to owning and walking a dog.
Thank you to our sponsors PUSH Beverages and The Colorado Center for the Blind.