The following post was written by Kevan Worley and Brooke Adamek 
Riding down to the YMCA the other day, my Lyft driver mentioned a car with a huge sticker on the back window that read, "Essential Oils: real medicine, right now."
Last summer at the NF Be Healthy fair, presented by the NFB Sports & Rec division and WE Fit Wellness, one of the exhibits featured Essential Oils.
Personally, I have always felt that the "essential oil" fad was a pyramid scheme and, well, a crock? But after chatting with Jessica Beecham and Amber Sherrard in our office, who extolled the virtues of aromatherapy, I decided to look further into the facts.
According to http://umm.edu/health, essential oils have been used for therapeutic purposes for nearly 6,000 years. The ancient Chinese, Indians, Egyptians, Greeks, and Romans used them in cosmetics, perfumes, and drugs. Essential oils were also commonly used for spiritual, therapeutic, hygienic, and ritualistic purposes.
By definition, aromatherapy is the use of essential oils from plants for healing. Essential oils can be inhaled or applied to the skin. Recently, essential oils have gained attention as an alternative treatment for infections, stress, and other health problems.
According to www.livescience.com, essential oils (also known as volatile oils) are the basic materials of aromatherapy. They are made from fragrant essences found in many plants. These essences are made in special plant cells, often under the surface of leaves, bark, or peel, using energy from the sun and elements from the air, soil, and water. If the plant is crushed, the essence and its unique fragrance are released.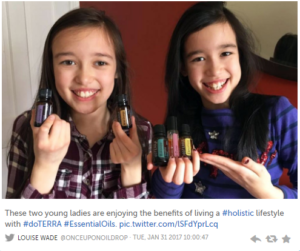 DoTERRA, an essential oils promoter, claims some oils are used to promote physical healing — for example, to treat swelling or fungal infections. Others are used for their emotional value — they may enhance relaxation or make a room smell pleasant with a diffuser.
There are many essential oils used in aromatherapy, including those from Roman chamomile, geranium, lavender, tea tree, lemon, cedarwood, and bergamot. Each type of essential oil has a different chemical composition that affects how it smells, how it is absorbed, and how it is used by the body.
A significant body of research on essential oils has been conducted by the food, flavoring, cosmetics, and tobacco industries. They are most interested in the flavor, mood alteration, and preservative qualities of essential oils. Some of these companies have also conducted extensive research on the toxicity and safety of essential oils.
Researchers are not entirely clear how aromatherapy may work. According to www.aromaticscience.com, some experts believe our sense of smell plays a huge role. The "smell" receptors in your nose communicate with parts of your brain (the amygdala and hippocampus) that serve as storehouses for emotions and memories. When you breathe in essential oil molecules, some researchers believe they stimulate these parts of the brain and influence physical, emotional, and mental health.
For example, scientists believe lavender stimulates the activity of brain cells in the amygdala similar to the way some sedative medications work. Essential oils have become increasingly popular among households trying to achieve a more holistic lifestyle.
According to WebMD and pediatrician Clifford Bloch, MD, most topical and inhaled essential oils are generally considered safe. You should never take essential oils by mouth unless you are under the supervision of a trained professional. Some oils are toxic, and taking them by mouth could be fatal.
Lavender and tea tree oils are among the most commonly used essential oils used, especially with children. Although research is inconclusive, lavender oil is often used in aromatherapy and calming lotions, while tea tree oil is promoted for acne, nail fungus, and other skin conditions.
In 2007, Bloch conducted several studies on the effects of tea tree and lavender oil on children ages 4-10. After inconclusive data, Bloch stated "I'm reluctant to make statements where I don't have evidence. But when it comes to over-the-counter stuff, especially things that claim to be 'natural,' you don't always know what you're getting. I think you should be careful with anything you put on your skin."
While aromatherapy is used in a wide range of settings — from health spas to hospitals — to treat a variety of conditions, in general, it seems to relieve pain, improve mood, and promote a sense of relaxation.
In fact, several essential oils — including lavender, rose, orange, bergamot, lemon, sandalwood, and others — have been shown to relieve anxiety, stress, and depression. So perhaps essential oils aren't a crock as I once thought. So, next time I get a message I'll pay the extra 10 bucks and enjoy the lavender scent. But, don't go by me. I actually love the smell of diesel and jet fuel. I doubt they will have that option at Massage Envy.